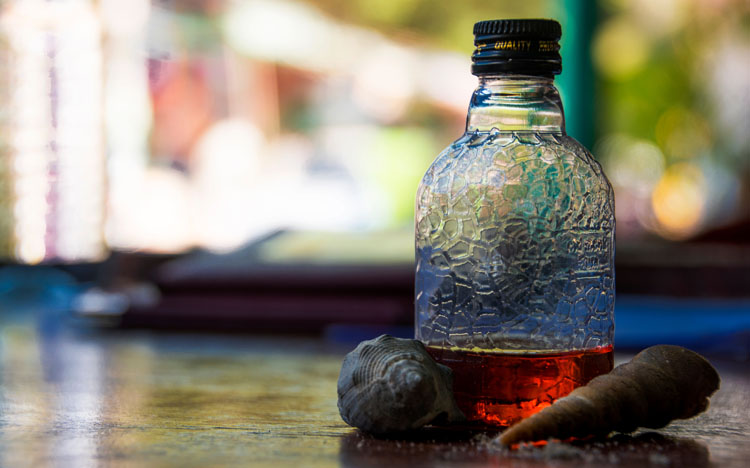 Rum
OLD MONK AND THUMBS-UP
It's everyone's timeless, bar-raiding-worthy, college reunion, kind of drink. Old Monk wallahs will tell of how it was a coming of age drink for them. Grandmas will tell you how it's the best thing for a cold and cough. The old city bakers will tell you how it was an important ingredient for their rum wedding cakes. Old Monk has the perfect mix of vanilla and cinnamon leaving a sweet aftertaste. We recommend you try a well poured patiala peg with a simple combination of thumbs-up and water, or a bit fancy with honey, lemon juice, mint leaves, and crushed ice. And, we assure you there's only happiness to be found at the bottom of your glass
SINGLE MALT WITH BRUBECK
Those who've weathered a few seasons of ye olde Jazz Yatra, will swear by it. The new age Jazz and Blues aficionados won't have anything else with their music than a good nip of Glenfiddich. If straight scotch is not for you, we recommend a cocktail you can't refuse, the Godfather cocktail made of Scotch and Amaretto.
IRISH CREAM IN YOUR BOSS' COFFEE
It's one of the secrets Bombay's upper-management won't tell you. We will, of course tell you that Baileys has been and continues to be a staple for all those office team building sessions. Right from the bastions of the city's power brokers to celebrity soirees is where you'd see it delicately sipped, or mixed with Kahlua coffee liqueur and butterscotch schnapps. Yes, you heard it here. Coffee is for minions.
BEER GLORIOUS BEER
There's nothing better to beat Bombay's ferocious heat than a beer, preferably by the seaside. This simple tipple can be found at the Harbour Bar of the grand Taj in Colaba, to somewhere in Bandstand at Bandra. The flavours range from bitter to sweet to tangy – all made possible by the host of micro-breweries and the craft beers. We recommend the Black Mamba for James Bond wannabes.
VODKA CRANBERRY FOR DIVAS
Carrie Bradshaw has our everlasting thanks. Right from the glitz and glamour of Bombay's movie stars to the workaholic writers and seductive songstresses, who hasn't been romanced by the famous Cosmopolitan cocktail? Every bartender who's worth his salt will tell you it's one of the most requested for cocktails by those who want to wine, dine, and impress.
---