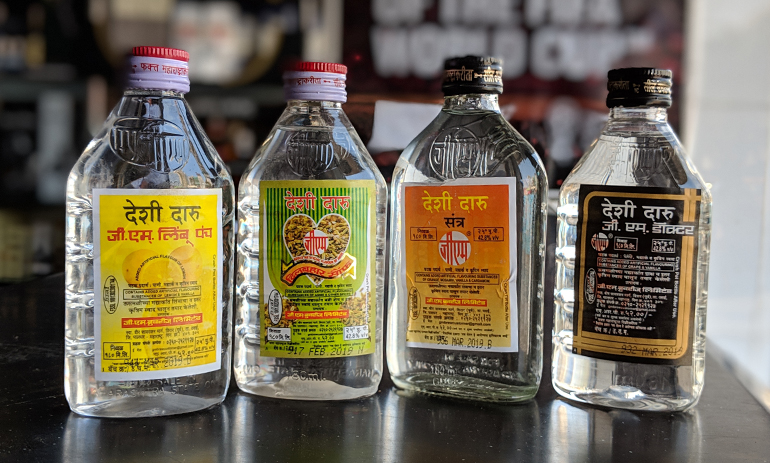 Regional Spirit
The Ultimate Desi Daaru Taste Test
India's famously infamous country liquors simplified for you.
Jui R Churi
2nd May 2019
Beyond the world of expensive imported spirits ordered peg after peg in swankily made-up pubs, lies another muted, yet larger-than-life world of 'the desi'. Desi daaru, also known as country liquor and majorly considered 'shady' by the city party-goers at large, is nothing more than pure alcohol in its very spirit. Having simple fruity names and available at rock-bottom prices, these spirits are sure to give you the 'kick' right from the first sip and get you high super quick!
Enticed by these bad-boys of the liquor world, we decided to go ahead, encounter and evaluate them. Here's what resulted…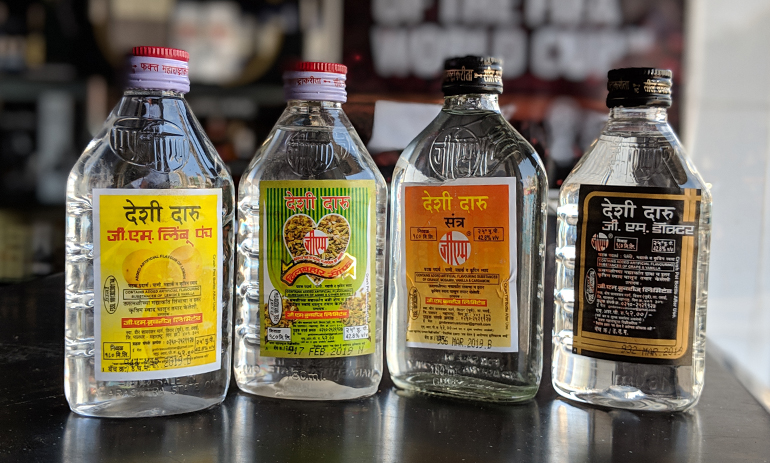 G.M.Santra
The most favorite of the lot, G.M. Breweries' Santra is made from premium distilled molasses. Blended with strong orange-based flavours, the Santra is loved by its patrons for its organoleptic taste and aroma and has been at the premier position in Maharashtra's country liquor industry.
Having a sweet-tangy aroma, G.M. Santra tastes a lot like vodka but 3x stronger. We had our peg mixed with soda but had an intense burning sensation in our throats right from the first sip. Sweet only on the nose, the taste is somewhere between sour and bitter and gives you an instant high. We recommend drinking this drink with an orange-based soda to balance the bitterness.
Cost: Rs 217 / 750 ml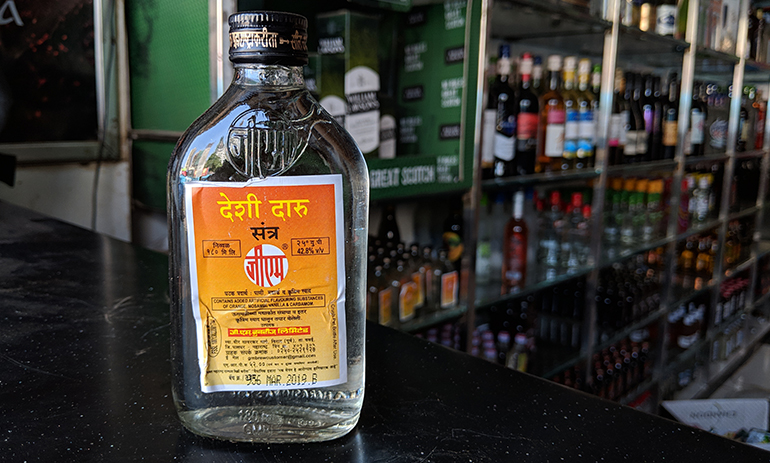 G.M. Nimbu Punch
A mixed blend of lemon and lime flavours, G.M.'s Nimbu Punch is a sweet and sour amalgam that comes accompanied with a bouquet of Indian spices and herbs. A desi take on lemony cocktails, the nimbu is a also a favorite of country liquor drinkers, second only to the Santra.
Tasting exactly like lemon-vodka shot, Nimbu Punch was a delight to our taste-buds. Made with equal parts of the spirit with lemon-soda, our peg gave our tongues a happy high almost instantly, although being a little warm for our insides. Citrusy and a little pungent, G.M.'s Nimbu Punch, undoubtedly, is our favourite!
Cost: Rs 217 / 750 ml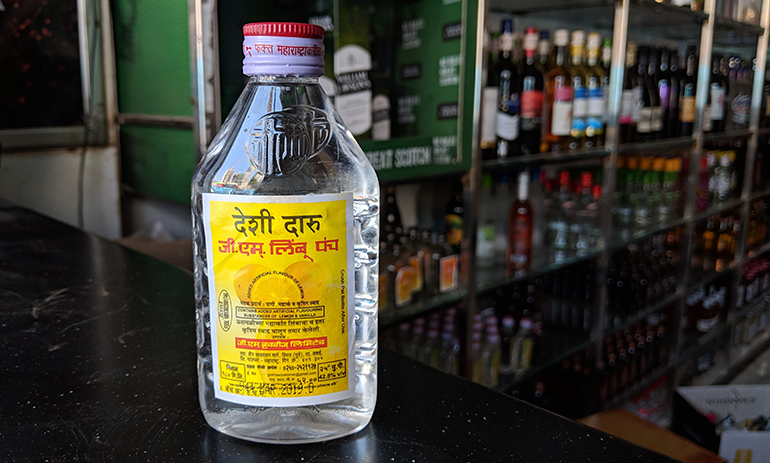 G.M. Dilbahar Saunf
A desi counterpart of the absinthe, G.M's Dilbahar Saunf is all about fennel, anise and other Indian spices. Having a smooth texture and fresh taste, the spirit is a Superior blend of fine distilled and rectified spirit.
A sweet aroma and sweet taste is how we describe G.M.'s Dilbahar Saunf. Much smoother than the other flavours, the drink actually tastes like Absinthe and leaves a pleasant aftertaste. We had this drink mixed with a regular soda, and it surprisingly did not put our insides on fire. A relatively effortless drink, we would totally gives a thumbs-up to this fennel flavoured liquor.
Cost: Rs 217 / 750 ml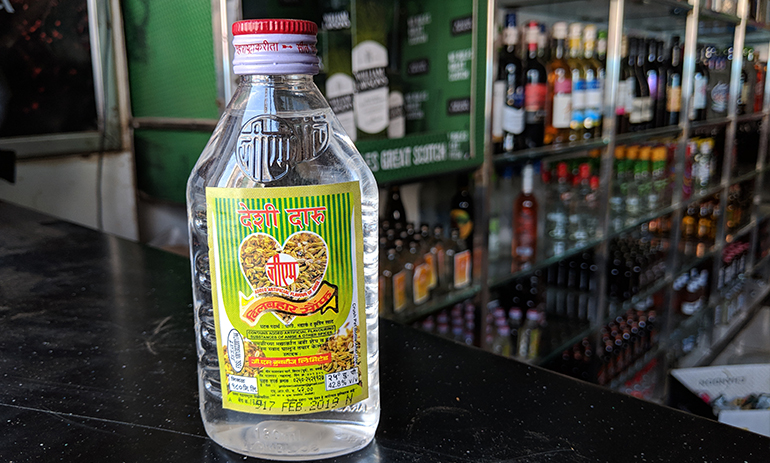 G.M. Doctor
Ruling the desi liquor market since more than 25 years, G.M's Doctor blend is flavoured with the juice of sugarcane. Having a full-body palate, the Doctor is made in a finely filtered vacuum distillation plant.
With a greasy-bitter smell and tasting somewhat like a mixture of coffee and sugarcane juice gone bad, the Doctor was a flavour we disliked the most. Having a very strong and unpleasant taste, our peg was made with equal portions of cola and Doctor. A clear no-no for our readers, we wouldn't recommend this version of desi liquor to anybody!
Cost: Rs 217 / 750 ml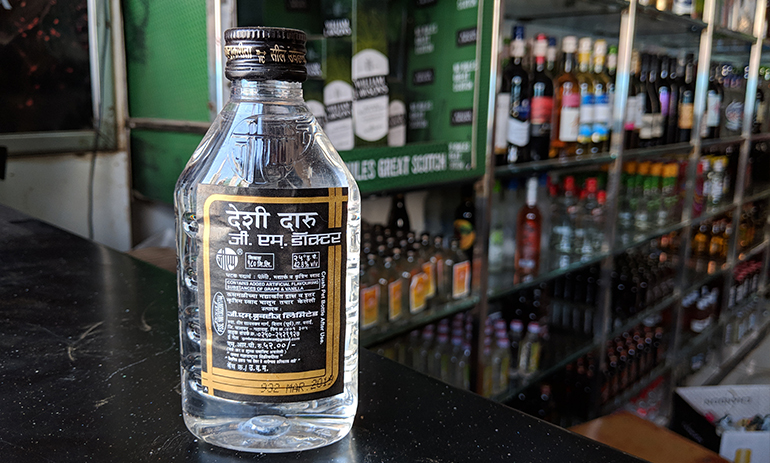 ---