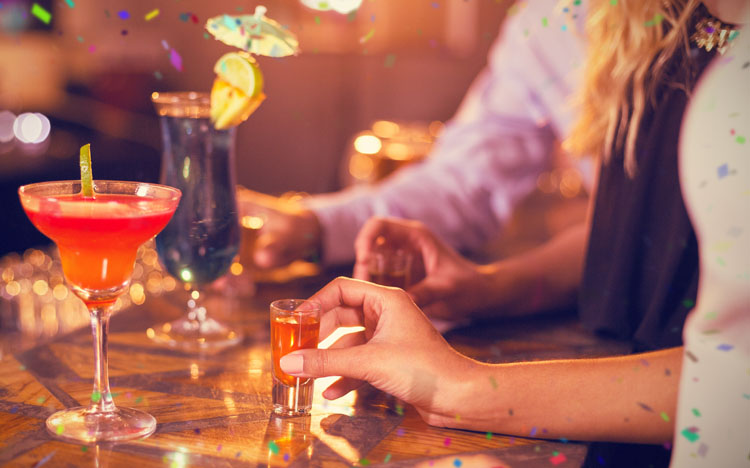 Tequila
No, this is not going to go the Mary Poppins way – a spoon full of sugar, in this case, won't help that medicine go down, simply because real Mexican tequila is created from 100% agave sugar.
For the uninitiated, tequila shots are had with a lick of salt and a sour lemon to wash the terrible taste off. Usually. Unfortunately, this really isn't the right way to drink it. It shouldn't be masked with salt and lemon, and the drain water pretending to be tequila gives the real stuff a bad name.
Know thy Gold
Blanco tequila is 2 months old or less; Reposado is between 2 and 11 months; Aneja is aged between 1 to 5 years; and Extra Añejo is aged a minimum of 3 years. Some say the really good Reposado and Añejo tequilas taste like a high quality single malt. If you've the time, try the mango tequila at The Taj, we did, and loved it.
So, ditch the chilling as it kills the flavor and the lime-and-salt theatrics, and go in for a cocktail. Try a Bloody Mary with tequila instead of vodka, or a Paloma, served with tequila and grapefruit soda. Though, a word to the wise, never mix tequila with sugar. So it's a complete no-no for those Long island ice teas with coke, smiley bartenders with the orangey tequila sunrises they endorse, or those sugary margaritas. We suggest you mix Triple Sec or Cointreau with tequila, and then cut it with water and add fresh lime.
The right way to savour your precious gold? We recommend you sip that Añejo at room temperature and you will find notes of agave, chocolate, caramel, burnt honey, yam, vanilla, or even tobacco or leather.
What the jokers, smokers, and midnight tokers highly recommend
There are more than a few Reposado tequilas. Montejima we're told, is said to be made out of the best variety of Blue Agave from Jalisco. There's a delicate balance of vanilla and wood in the flavor. Piedra Azul has a hint of vanilla with a honey finish. The XXX Siglo Treinta tequila has a strong oak base. Blue Head Blanco tequila has a sweet and fruity taste. U4RIK Añejo tequila has a floral and sweet taste. If your boss is paying the bill, we heartily recommend the 5 year El Capo Extra-Aged Añejo tequila. And if your boss asks why, tell him it's because of the happy concentration of dried fruit, coffee, walnuts, and chocolates.
---